In January, the Food and Drug Administration (FDA) permitted the emergency use and authorization of the third pediatric doses for Pfizer-BioNTech to prevent COVID-19 in patients 12 years of age and older.  The booster dose can be administered at least 5 months after completing a primary series of the Pfizer-BioNTech COVID-19 vaccine.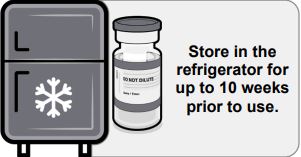 Pfizer-BioNTech also released a new formulation of their COVID vaccine for patients 12 and older that does not need to be diluted prior to administration. The new vial comes with gray cap that can stored in the refrigerator for up to 10 weeks.
Administration Fee & Patient Incentive Extensions
Great News! All Ohio Managed Care Plans are extending their member gift card program to include all members who are 5 years and older. Any member who receives their first dose of the COVID-19 vaccine will be eligible for a $100 gift between now and June 30, 2022.
The $100 administration fee will also be extended as part of the provider enhanced reimbursement program for all doses of the Pfizer-BioNTech, Johnson & Johnson's Janssen and Moderna COVID-19 vaccinations until the end of June. Ohio MCPs will issue the standard administration $37.98. The bonus payment of $62.02 will be effective until June 30, 2022.
Please visit the CPP website for additional  COVID-19 Resources .