Welcome to Resource Round-Up from CPP Buying Group. In this new blog series, we will highlight recent articles and resources on a specific topic. This edition highlights resources for and about children.
COVID-19 and Children
CHOP: "News & Views: COVID-19 and Kids — What Do We Know?"
https://www.chop.edu/news/news-views-covid-19-and-kids-what-do-we-know
As time passes and cases of COVID-19 increase, medical professionals are learning more about infections in children. This article discussed current knowledge on how COVID-19 affects children. It includes information on infection, transmission, hospitalization, and complications.
CHOP: "In the Journals: COVID-19 Deaths among Those < 21 Year Old in the U.S."
https://www.chop.edu/news/journals-covid-19-deaths-among-those-21-year-old-us
Explains recent CDC data on the incidence of death from COVID-19 in those under the age of 21.
New Vaccination Books for Children
Ava Antibody Explains Your Body and Vaccines
This book describes how antibodies work using simple language and fun illustrations. Explains how vaccination works and how it protects those who can't be vaccinated.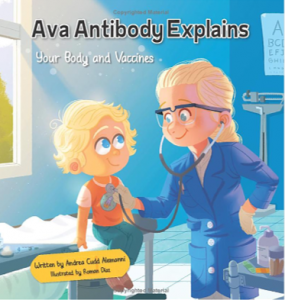 Vax-Force
Features Vicky the Vaccine who teaches children about "Antibuddies" and "bad-guy germs." The Vax-Force takes children on an exciting and educational adventure to explain how vaccination works.