No One Has Time for Flu
The Ad Council, the American Medical Association (AMA), the Centers for Disease Control and Prevention (CDC) and the CDC Foundation recently announced a new campaign, No One Has Time for Flu, to encourage Americans to get vaccinated against flu. The campaign will run nationwide during the 2020-2021 flu season and has a special emphasis on reaching Black and Latinx/Hispanic communities. These communities experience longstanding inequalities that result in low flu vaccine coverage and larger than average impacts of flu. The ads will appear in print, TV, radio, social media, out-of-home and digital formats.
The campaign toolkit has downloadable assets for use by healthcare providers and anyone else interested in spreading the message. The toolkit has sample newsletter and social media copy as well as social media graphics. All resources are in English and Spanish.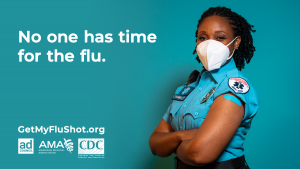 No One Has Time for Flu directs consumers to the website www.getmyflushot.org. The site has multiple resources about flu and the flu vaccine. There is a tool to find a flu shot nearby, information on why getting a flu shot is important and about flu and COVID-19, and "flu facts."
Flu and Chronic Conditions
Sanofi Pasteur produced Influenza Chronic Conditions Flashcard to highlight the impact of flu on chronic conditions, especially in older adults. The flashcard covers flu and cardiovascular disease in adults over 40. It cites a retrospective self-controlled case series study showing ~10x increased risk of first heart attack and ~8x increased risk of first stroke within 3 days post-influenza infection.
The flashcard also reports data from two studies showing increased complications from flu for patients with diabetes. Patients with diabetes who contract flu may be at 3x higher risk of hospitalization and 4x higher risk of ICU admission.
The flashcard can be downloaded here.