The data is clear: childhood immunization rates have plummeted due to the COVID-19 pandemic and associated stay-at-home orders. With the uncertainty of the pandemic's timing, health care providers must take action to maintain vaccinations among patient populations that are wary of leaving their homes. The CDC's Morbidity and Mortality Weekly Report (MMWR) released May 8, states the urgency of the situation:
Reminding parents of the vital need to protect their children against serious vaccine-preventable diseases, even as the COVID-19 pandemic continues, is critical. As social distancing requirements are relaxed, children who are not protected by vaccines will be more vulnerable to diseases such as measles. In response, continued coordinated efforts between health care providers and public health officials at the local, state, and federal levels will be necessary to achieve rapid catch-up vaccination.
Last week, we examined the current vaccination data. The situation is dire, however there is some good news. Examining the VSD doses administered shows an uptick in vaccine administration to children aged ≤24 months beginning in late March. This increase might reflect the success of strategies to promote childhood vaccinations in the context of the pandemic.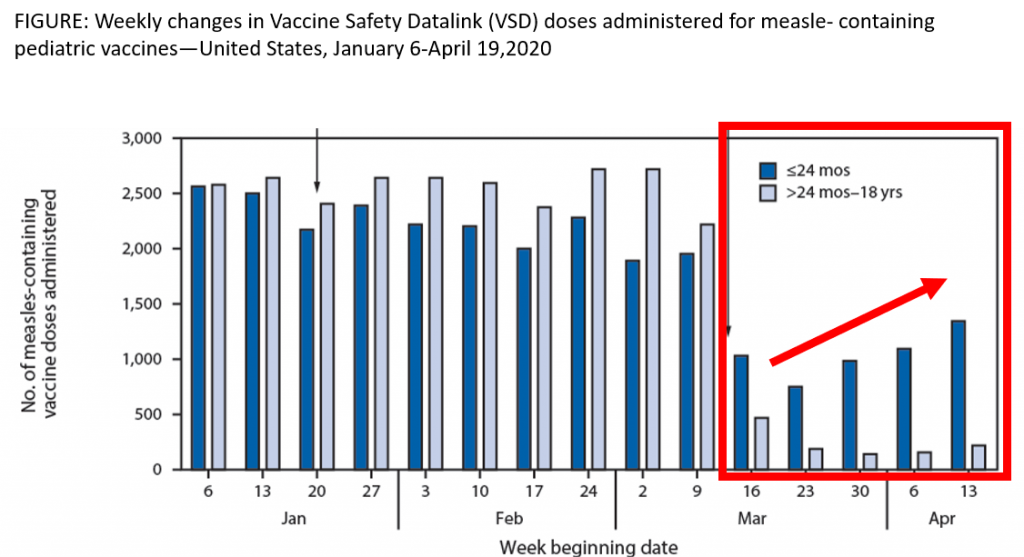 Below are strategies that have shown early success. These include practice management resources, talking points, and social media images to share.
Practice Management and Resources for Providers
By now, providers are well aware of the guidelines for continuing to see patients for well visits. The CDC recommends
Scheduling sick visits and well-child care visits during different times of the day
Reducing crowding in waiting rooms, by asking patients to remain outside (e.g., stay in their vehicles, if applicable) until they are called into the facility for their appointment, or setting up triage booths to screen patients safely
Collaborating with healthcare providers in the community to identify separate locations for providing well visits for children.
The CDC's page on caring for children during the COVID-19 pandemic includes up to date information on maintaining childhood immunizations. The IAC has an "Ask the Experts" page titled "COVID-19 and Routine Vaccination."
Talking Points
Vaccinate Your Family has put together two helpful guides for providers. The first, "Call, Don't Cancel: Talking to People about Vaccinations during the COVID-19 Pandemic," contains talking points for providers to use in communications to families. These include sections on new practice policies, setting reminders to follow-up on missed immunizations, links to help uninsured children, and information on why vaccines are still critical during this time.
The second resource from Vaccinate Your Family is designed for vaccine advocates. "Raising Vaccination Rates During a Pandemic" has steps and resources for advocates to use that may encourage people to reach out to their providers and receive routine vaccinations. These include:
Share talking points with your governor's office and your state's Secretary of Health.
Work with local medical professional societies to help spread the word.
Submit opinion pieces and letters to the editor to your local papers.
Consider how your community receives information.
Social Media/Images to Share
An excellent strategy to encourage vaccination during the pandemic is by communicating with families via social media or email. Many of the talking points in the "Call, Don't Cancel" resource can be posted in a social media message or including in email or website content. The CDC has created a social media image with an important message for providers to share.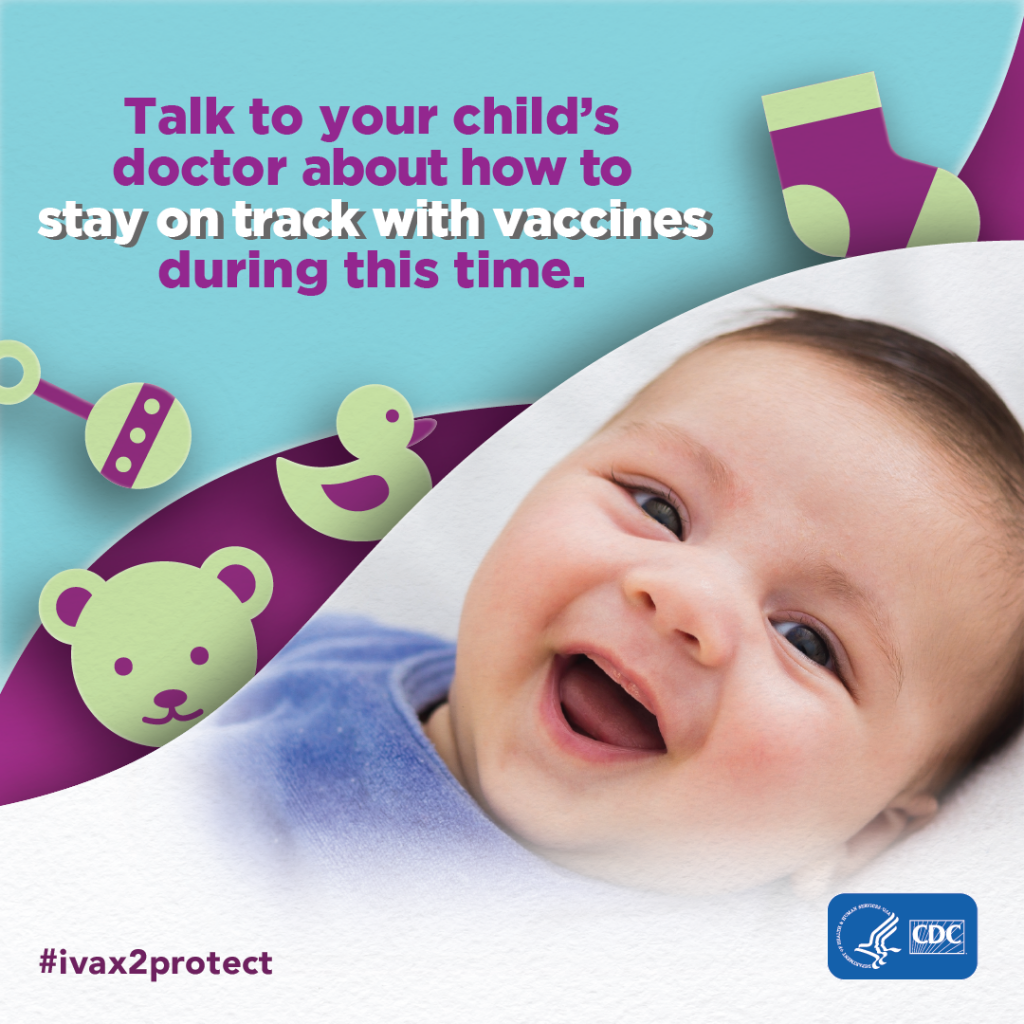 The CDC also recommends directing families to
In addition, the CDC has created sample text to share via social media with links to their easy to read schedule:
 The Ohio AAP created a handout that can be shared digitally or in print.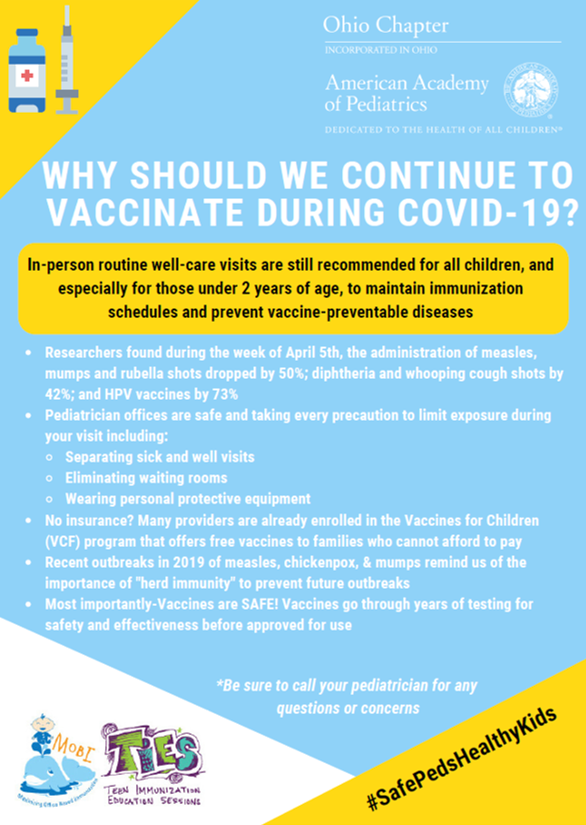 Hopefully by using these resources, immunization rates will rise in all age groups and we can prevent outbreaks of vaccine preventable diseases.