For weeks, public health experts have warned about the effects of stay-at-home orders on routine childhood vaccines. New data confirms those fears. In the CDC's Morbidity and Mortality Weekly Report (MMWR) released May 8, data shows vaccine orders and administration have plummeted. The CDC analyzed data from two sources: the first is Vaccines for Children Program (VFC) provider order data from CDC's Vaccine Tracking System. VFC is a national program that provides federally purchased vaccines to approximately 50% of U.S. children. Researchers analyzed VFC orders of noninfluenza vaccines between January 7, 2019–April 21, 2019 (period 1) and January 6, 2020–April 19, 2020 (period 2).
The other data source is Vaccine Safety Datalink (VSD) vaccine administration data. VSD is a collaborative project between CDC's Immunization Safety Office and eight U.S. health care organizations serving publicly and privately insured patients. VSD data was analyzed for measles-containing vaccine doses administered between January 6, 2020 and April 19, 2020 for two age groups: children aged ≤24 months and those aged >24 months through 18 years.
The chart below displays the plummet in vaccine orders and administrations after a national emergency was declared on March 13.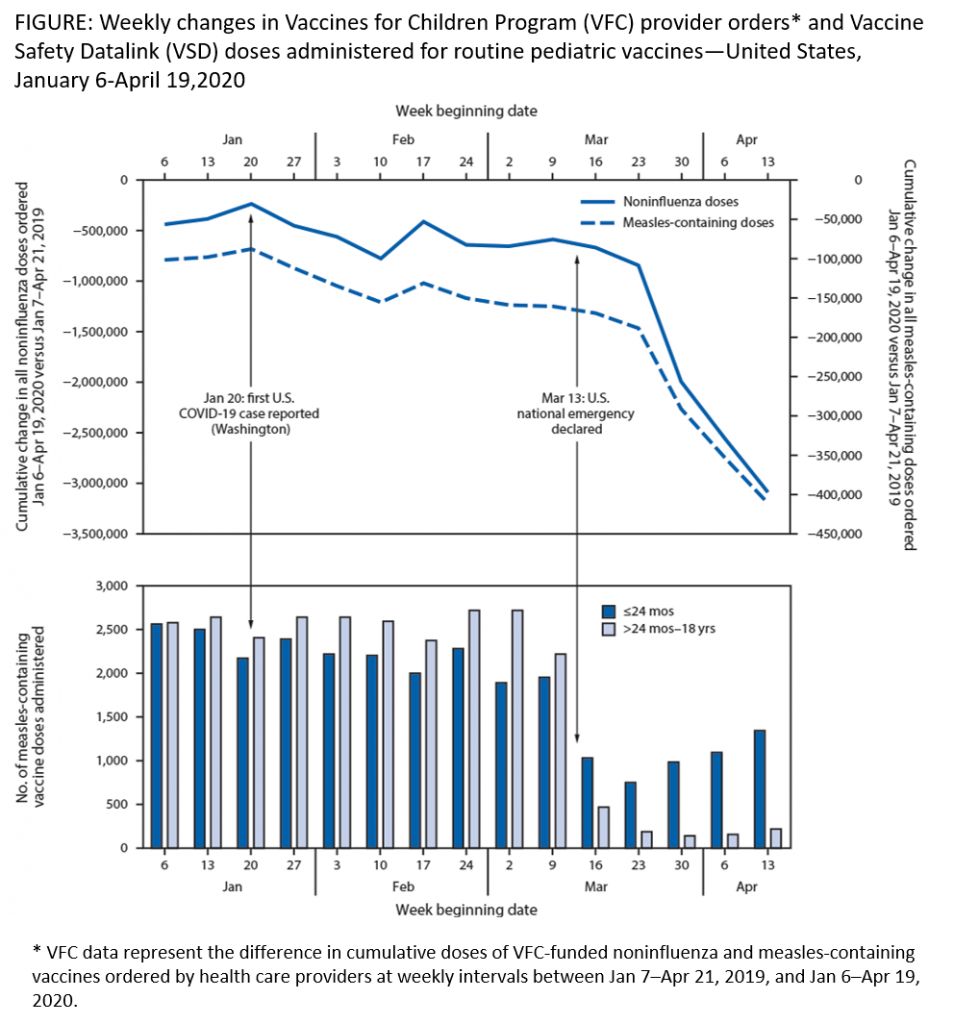 VFC purchases dropped sharply in the weeks after the March 13 declaration, while vaccine administration dropped immediately. Vaccinations among children 24 months and younger have not seen as large of a decrease as those given to older children.
Other data sources show similar results. On April 23, The New York Times reported on data gathered by PCC, a pediatric electronic health records company.
(PCC) gathered vaccine information from 1,000 independent pediatricians nationwide. Using the week of February 16 as a pre-coronavirus baseline, PCC found that during the week of April 5,  the administration of measles, mumps and rubella shots dropped by 50 percent; diphtheria and whooping cough shots by 42 percent; and HPV vaccines by 73 percent.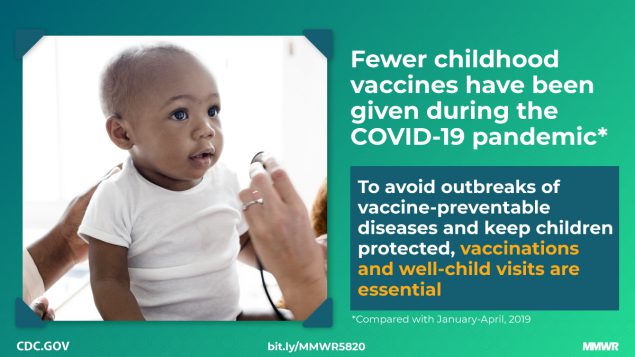 This is especially worrying as many children in the United States were not receiving the recommended vaccinations on time prior to the pandemic. In a March 2020 study published in the journal Pediatrics, researchers found that only 58% of children were up-to-date with all Advisory Committee on Immunization Practices (ACIP) recommended immunizations by 19 to 35 months. A further decline in vaccination rates could put many children at risk for life-threatening diseases such as measles and whooping cough.
So far, attempts to increase vaccination rates during the pandemic have centered on children 24 months and younger. However, as the stay-at-home orders stretch on, experts are looking at older children's immunization rates. 4- and 5-year-olds received booster shots for measles, mumps, and rubella, and 11-year-olds for tetanus and whooping cough. A prolonged delay of these boosters will cause immunity to these diseases to wane.
What can be done to prevent a second health crisis caused by these plummeting vaccination rates? Next week, we will post detailed recommendations, resources, and best practices gathered from public health organizations to assist health care providers in increasing vaccination rates.