As the weather gets cooler pediatric practices are preparing and staying busy as all three major respiratory viruses COVID-19, flu, and RSV are circulating. According to the CDC, this year's fall and winter virus season will be similar to what the country faced in 2022.
CDC vaccine recommendations
In addition to the forecasts, CDC has outlined specific vaccine recommendations for all three viruses:
COVID-19 Vaccine
The ACIP recommendation for all persons 6 months of age and older to receive the 2023-2024 COVID-19 vaccine was officially adopted by the CDC Director on September 12, 2023.  We expect that private payers will be working to incorporate this vaccine into their payment schedules in the coming weeks and recommend that you reach out to your major payers to verify adequate payment is in place for these new CPT codes.  CPP has also updated its Pediatric and Adult coding cheat sheets.
CPP is now offering members a discount Moderna's (Spikevax) and on Pfizer's (Comirnaty) COVID-19 vaccines.  
Operational Considerations
There are some operational differences between the Moderna and Pfizer COVID vaccine options. We've outlined them below so you can choose the option that will work best for your practice.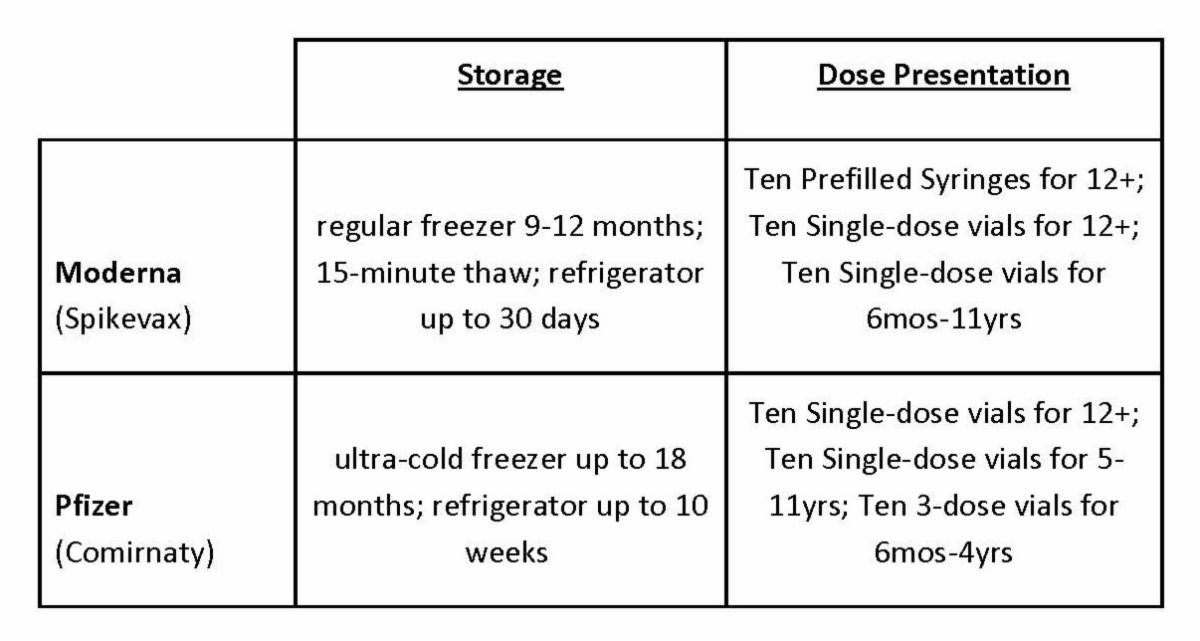 iNFLUENZA VACCINE 
For the 2023–2024 season, there are no changes to the licensed ages and no new products. It is no longer necessary for people with egg allergies to receive an influenza vaccine in a medical setting. Any influenza vaccine appropriate for the recipient's age and health status can be used regardless of whether it is egg-based.
iNFant, Adult & MATERNAL RSV 
RSV Monoclonal Antibody (Infants)
On August 3rd, the ACIP voted in favor of Sanofi and AstraZeneca's Beyfortus, a long-acting antibody for the prevention of respiratory syncytial virus (RSV) lower respiratory tract disease in all infants born during or entering their first RSV season and in children up to 24 months of age who remain vulnerable to severe RSV disease through their second RSV season.
The official recommendation was published in the MMWR and incorporated into the 2023 CDC Immunization Schedule accordingly. Shipping began mid-September. The VFC program is also expected to incorporate Beyfortus™ into their portfolio in early October, but please note that individual state implementation timelines may vary. If your practice is considering administering Sanofi's Beyfortus™ this fall to infants, please see Sanofi's billing & coding guide. As with any new vaccine, we recommend that our members confirm adequate payment is in place with their major payers before administering to patients.
RSV (Adults 60+)
During their June meeting, the ACIP recommended a dose of RSV vaccine for older adults 60 years of age and older using shared decision-making between the patient and healthcare provider. These details were published in the MMWR at the end of July, which is typically a signal to insurance carriers to begin paying for the newly approved vaccines.
Maternal
In September, the ACIP met and voted to recommend Pfizer's RSV vaccine (Abrysvo) for pregnant women at 32-36 weeks gestation between September and January to protect the infant from RSV. As with the other new vaccines, efforts are underway to try and accelerate the timeline for payers to adopt and begin paying for this new vaccine before the onset of the RSV season.
CDC RSV Resources
The CDC has developed a similar VIS-like document called "Immunization Information Sheet for RSV Immunization". You can download a copy here.
UpCOMING WEBINARS 
The AAP has announced two webinar series to prepare clinicians for the fall respiratory season.
Title: Prevention of RSV in Children – Clinical Updates
Please join co-presenters Jefferson Jones, MD, MPH (CDC), Mary T. Caserta, MD, FAAP.  They will be discussing clinical data on nirsevimab and maternal RSV vaccines, CDC guidance, AAP recommendations, among other relevant topics.
The webinar dates and times are listed below:
Tuesday, October 10th, from 6:00 – 7:00PM CT
Click here to register here
Title: Nirsevimab Implementation Strategies in Outpatient Pediatric Practices     
In this webinar co-presenters Jefferson Jones, MD, MPH (CDC), Mary T. Caserta, MD, FAAP, will discuss purchasing, coding and payment, office processes, documentation, and more.
The webinar dates and times are listed below:
Tuesday, October 17th, from 7:00 – 8:00PM CT
Click here to register here
QUSETIONS
We understand there are a lot of changes happening. If you have questions, please contact the CPP team or schedule a call or virtual meeting. We are here to help however we can!